Paolo Lopriore e Luca Govoni
Appointment on Culinaria stage SABATO 29 SETTEMBRE ALLE 18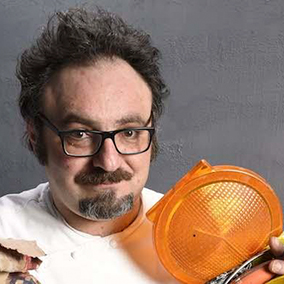 Paolo Lopriore
Paolo Lopriore nasce a Como il 28 marzo 1973. Dopo un percorso biennale presso Il Centro Formazione Professionale (CFP) Como that brings him - under the guidance of Chef Luciano Tona - to make a first stage at Restaurant "Il Sole di Ranco" (Ranco-Varese), a 17 he entered definitively in the kitchens of Gualtiero Marchesi in via Bonvesin of Riva, in Milan. and' Here you will discover a world we did not know existed: "Questi modelli di eccellenza, di grande attenzione al particolare, mi hanno da subito affascinato e coinvolto, tanto che da allora non mi sono più allontanato da questo circuito di alta qualità", has said.
After his military service and a brief period at the '"Enoteca Pinchiorri" from Florence, He follows Carlo Cracco called by Maestro Marchesi who inaugurated the restaurant "L'Albereta" in Erbusco, in provincia di Brescia. Qui Paolo resta per due anni prima di affrontare l'esperienza francese, first at the Restaurant "Leedoyen" Paris, then in what was his most incisive experience after Marchesi, at the "Maison Troisgros" in Roanne. Sono gli anni della formazione e Paolo è curioso, ambizioso e pieno di entusiasmo.
Dal privilegiato osservatorio francese ha modo di cogliere con interesse gli aspetti riguardanti la nuova gastronomia dei paesi del nord Europa. Attraverso la conoscenza di un cuoco, with whom he had already worked at Marchesi, advantage of the opportunity to move to Norway at the Restaurant "Trifle" sotto la guida di Eyvind Hellstrom. Qui resta due anni per tornare nel 1999 da Gualtiero Marchesi, con il quale è sempre rimasto in contatto. This second experience in Erbusco - more mature both professionally and personally - It was a period of pure synergy with Master.
After a period spent in Europe to raise awareness of the Italian cuisine together with his friend Luciano Tona, in 2002 arrives at the restaurant "The singing" dell'Hotel Certosa di Maggiano, where he starts a personal approach, what brings him to stop in the Tuscan land for thirteen seasons during which begins a deep study of the area and the hospitality that brings him, in a short time, collecting several awards, nazionali ed internazionali.
In 2003 il Premio "Novità dell'Anno" per la Guida Espresso 2004 , in 2008 l'entrata nella Guida Gambero Rosso con 3 Forchette , in 2009 il premio Miglior Performance dell'Anno per la Guida Espresso 2009 , in 2010 l'entrata al 39° posto nella Lista 50 Best Restaurant of the World , in 2011 3 Cappelli (con un punteggio di 18,5 ) per la Guida Espresso 2012 and the International Achievement Award - Lo Mejor de la Gastronomia 2011
In 2012 riceve il premio Identità Golose – Miglior Chef dell'Anno 2012 e la Targa d'argento consegnata dal Ministro Vittoria Brambilla come Maestro di Cucina Italiana.
In 2014, during his stay at the Restaurant "Kitchen" Como begins to take shape the concept of convivial kitchen which finds its full expression in the encounter with Andrea Salvetti with which embodied the harmony in a convivial kitchen formula in the name of freedom pushed to its extreme limit.
Tra le sue pubblicazioni più incisive "O-24: Una giornata in cucina" edito nel 2005 da Bibliotheca Culinaria.
A seguire "6" (sei) Autoritratto della cucina italiana d'avanguardia "edito da Cucina & Vini Editrice , Autore Bob Noto e Alessandra Meldolesi
Eating with the Chefs , Edito da Phaidon , Autore Per-Anders Jörgensen
Where Chefs Eat, Edito da Phaidon
Coco, Published by Phaidon to get its cooperation more important that the one with the Cook_Inc magazine published by Edizioni Vandenberg where - thanks to substantial collaboration with Fabio Pracchia and Anna Morelli - care a confidence space.
Oggi è operativo nel ristorante Il Portico di Appiano Gentile.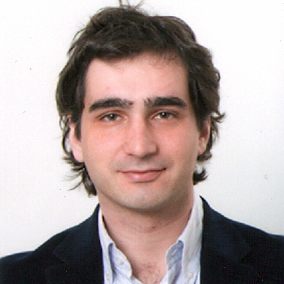 Luca Govoni
Docente di Storia e cultura della cucina italiana ad ALMA – La scuola internazionale di cucina italiana e collaboratore freelance della rivista Spirito di Vino. Da alcuni anni partecipa a progetti di cooperazione internazionale nei Paesi Terzi.
Laureato in Conservazione dei Beni Culturali con indirizzo storico-artistico, ha frequentato il Master biennale Europeo di "Storia e cultura dell'alimentazione" a Bologna diretto da Massimo Montanari. Ha lavorato nell'ambito del marketing e della comunicazione per Assica (Associazione Industriali delle carni), partecipando alla promozione dei salumi italiani in Italia e all'estero, oltre a collaborare diversi anni come freelance per la rivista SlowFood.